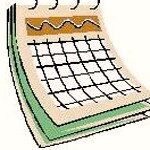 AUGUST - Operation Inasmuch (OIAM) will be held on Saturday, August 26. So far some mission projects planned are at laundry mats, gas stations, and a small construction or repair job. Please call the office for more information.


SEPTEMBER - The 20th Horne Home Walk a Thon will be on Saturday, September 16 from 10:00 AM to 12:00 noon at 418 Mulberry Rd. Come walk or rock, meet the ladies of the home, enjoy live music, and lunch. And remember to engage your church in the fund raising as well as joining in the fun of the day!


OCTOBER - Our Annual Meeting AND 60th Anniversary Celebration will be held on Tuesday, October 17 at First Baptist Church of Martinsville. Registration will begin at 4:30 PM. Call the office for more information.